The iPhone 7 Plus has come into the markets and everyone is equally excited at the thought of a new iPhone and downcast at the thought of the Price tag which isn't likely to come down until the next iPhone model is out. However, you might be sort of shocked to find that the iPhone 7 isn't even close to being one of the most expensive cell phones in the world right now.
There are some which go up in the 6 digits when it comes to worth and some which are even higher than a million dollars! So what additional features do these phones have, you might ask? Well, the answer is absolutely nothing! These phones aren't so expensive, and don't sell because of some great new abilities, but simply for being expensive itself. It's again the idea of Conspicuous consumerism, they derive their value from being so ridiculously expensive (the jewel studded exterior helps, too) and people generally flock to them in order to be able to display their wealth and status.
10 Most Expensive Cell Phones in the World
So here's a list of the top 10 most expensive cell phones in the world.
#10. iPhone Princess Plus — $170,400
The 'Princess' of the name derives from the fact that the exteriors of the phone are studded with 318 pieces of cut diamonds, 138 of them being the princess cut.
It's about 17.75 in diamonds, with an additional 18 karats in gold trimming. That ought to be enough to explain the price tag and making them one of the most expensive cell phones.
#9.  Savelli Smartphone — $250,000
These come with an 18 karat gold exterior, with your personal choice of jewels to line the corners.
However, your choices don't have to be limited to commonly available jewels, you can even demand snake or iguana skin exteriors as well. When you have money, the world really is your oyster.
#8.  Black Diamond VIPN Smartphone — $300,000
This is made by the brand Sony Ericson which isn't very common right now, though their luxurious mobile is definitely very famous for its astonishingly high price tag.
It's made of natural LED technology and a mirror. It comprises two expensive diamonds on the rear and the front.
#7.  Vertu Signature Cobra — $310,000
This one derives its value from its astonishing rarity, considering only 8 of them have been produced in the whole world. It features a golden snake coiled around the corners of the phone.
Furthermore, the snake is crafted from pear cut diamonds and wears a diamond earring as well. The body of the snake is studded with 500 pieces of rubies and the eyes are pure emerald.
#6.  Gresso Luxor Las Vegas Jackpot — $1 Million
Made in 2005 in Switzerland, these have been crafted in an art-deco style, with a gold-plated exterior and a 200-year-old African wood finish.
Furthermore, the buttons are made of sapphire crystals.
#5.  Diamond Crypto Smartphone — $1.3 Million
This has quite the chunky exterior, quite thick and dense so its isn't exactly very 'modern' in style.
However, they feature a top of the line security system, and a diamond encrusted exterior which makes the price tag jump sky high.
#4.  GoldVish Le Million — $1.3 Million
Designed by Emmanuel Gueit who is well known for his contributions to the world of jewelry and luxury watches, this design of his is really more a hand-held miscellaneous piece of jewelry than it is an actual 'phone.'
The Guinness World Record named it the most valuable phone in the world back in 2006. It derives its value from all the gold and diamonds that its made of.
#3.  iPhone 3G Kings Button — $2.4 Million
iPhone is the most well-reputed phone in the world, and so it is natural that they'd want to keep a hold on the Conspicuous consumerism market as well with these luxury mobile phones designed by Austria Peter, comprising 138 pieces of rare diamonds.
Even the central button is made of one big diamond.
#2.  iPhone 5 Black Diamond — $15.3 Million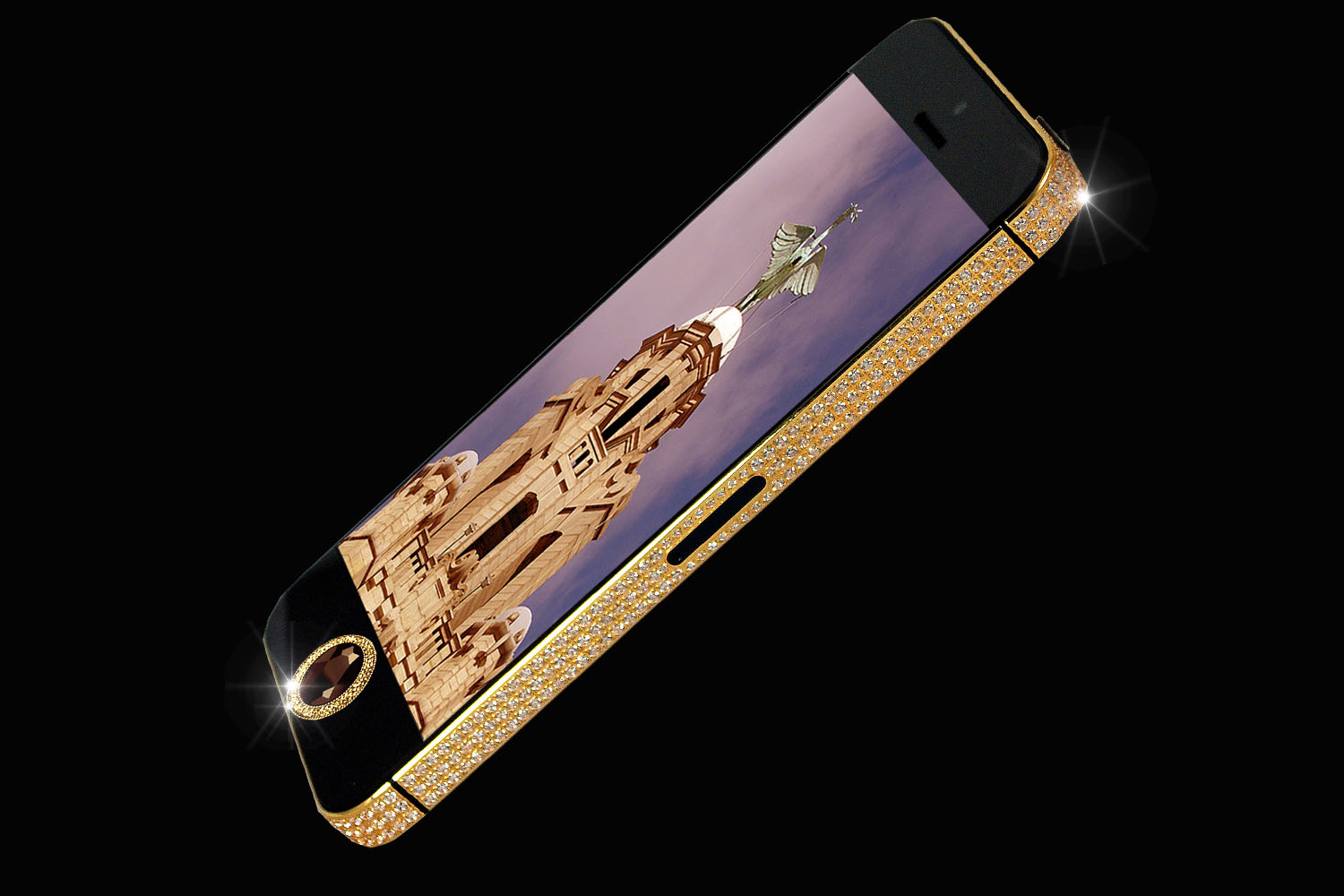 The Black Diamond is the most precious diamond in the world, and this phone features that along with a whole lot of other regular diamonds.
The phone was designed by Stuart Hughes and bought by a Chinese Businessman.
#1.  Falcon SuperNova Pink Diamond iPhone 6 — $95.5 Million
These are made completely of an 18 karat gold casing, and the back of the phone features a giant diamond placed just under the apple logo.
It features a cheaper version made of platinum with a blue diamond, but that too would put you short of $48.5 million.
So these are some of the most expensive cell phones in the world. Do let us know down in the comments what you think of them, or whether you can ever picture yourself buying one of these most expensive mobile phones. We'd love to hear from you!
You might also be interested in reading about