Audio Interfaces are one of the most imperative equipment for anyone who wishes to record some music or vocals, be it in a studio, in a bedroom, or a garage. The best audio interfaces can hook up all your musical devices like a microphone, studio headphones, etc, onto the production computer, and thus transform analog signals into digital ones.
This helps you provide backing tracks, beats, etc, to your vocals and work on them with your computer. If you'd like to launch your career through the democratic means of Youtube or Soundcloud this is a necessity as it helps you stand out in the sea of amateurs and come at the world with a more professional sound. However, you must be very careful while selecting your Audio Interface and take several factors into account.
10 Best Audio Interfaces For Mac and PC
Here's a list of the 10 best audio interfaces out there, both for Mac and PC.
#1.  Focusrite Scarlett 2i2 – $150
This is a great piece of equipment that's really user friendly and thus works well with beginners and studio producers. It has several slots for input and output, a nice microphone pre-amp, and is extremely stable in build and durability.
If you have a deeper understanding of the mechanics of music production you'd also be pretty pumped about the Ableton Live Lite feature which is a great software with which you can start recording. The '2i2' is indicative of 2 inputs and 2 outputs, along with 2 pre-amps.
#2.  Lexicon Alpha – $90
This is a great piece of equipment for those who are just starting out with home recording. It comes with 2 input gains, one monitor mix level, 1 output level, and 1 monitor stereo and mono toggle button.
This is suited for both PC and Mac users. As an additional feature, they come with a light edition of Steinberg's Cubase 5, and a Pantheon VST reverb plug-in. It is also quite light, weighing just about 0.49 kgs, and thus can easily be carried about.
#3.  Universal Audio Apollo Twin – $900
This is meant for Mac users only, though it's extremely powerful. It has some of the cleanest and neatest sound productions out there with zero latency and has a 2×6 thunderbolt connection.
This runs UAD Powered Plug-Ins via Audio Units, VST, RTAS & AAX 64 in all major DAWs. This is guaranteed to last you a long time, and its the best in the market if you're willing to shell out the extra dough.
#4.  Alesis i02 Express – $100
This is a two channel USB solution which is light and compact and ideal for those who are on a tight budget but would still like to produce quality music. Each input channel comes with its own XLR and a 1/4" TRS input port which can produce great music with external effects as well.
This can easily plug into a Mac or a PC with least hassle, and comes with the Steinberg Cubase music production software.
#5.  Mackie Onyx BlackJack – $150
This comes with amps that can go up to 60db and has two onyx microphone pre-amps. It's USB powered and comes with separate studio monitor and headphone outputs.
They are ideally suited for DJs, and the high-headroom design prevents static and distortions as well. It's also suitable for electric guitars and dynamic microphones because of the amp gains.
#6.  M-Audio M-Track Plus – $160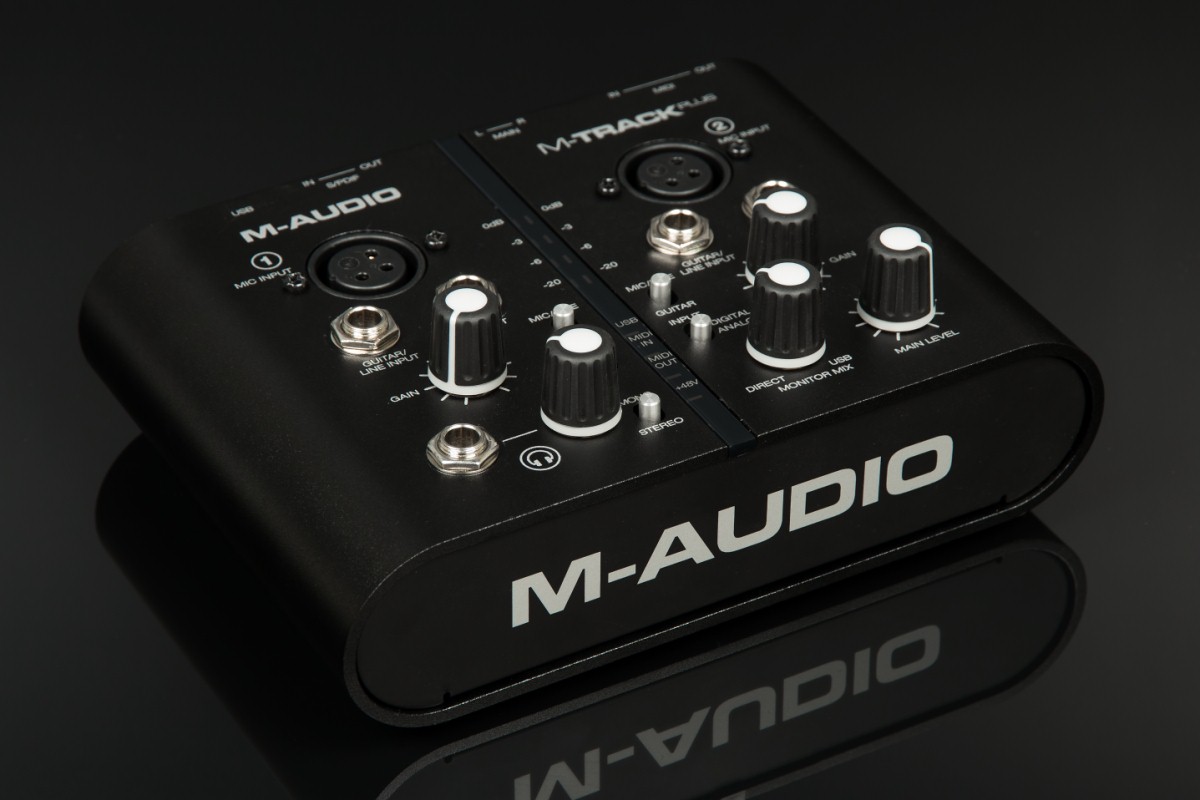 This is another cool interface which works with most PC and Mac systems and is good value for money. This has several jacks for microphones, input, output, etc, and is USB powered with great phantom power.
Some of its most attractive features are the Avid Pro Tools Express, and Ignite Creation Software by AIR.
#7.  Mackie Onyx Blackbird – $360
This one is highly recommended for its ultra sleek design, and the fact that the interface can handle several inputs and outputs all together. The studio monitors can also be connected to it directly, even though it comes with its own stereo outputs as well. It also comes equipped with Tracktion 3 music production software for both Mac and PC.
The studio monitors can also be connected to it directly, even though it comes with its own stereo outputs as well. It also comes equipped with Tracktion 3 music production software for both Mac and PC.
#8.  PreSonus AudioBox – $90
This is another great device which can work well with both PC and Mac, and it has a Combo XLR mic/balanced 1/4″ input, equipped with a Studio One Software.
This is one of the most budget-friendly best audio interfaces out there which is simple and elegant in design as well. If you need simplicity along with an inbuilt software, this is the one for you.
#9.  Apogee Duet – $600
This is a world class AD/DA converter which can work well with Mac. The greatest asset for this is the really sleek and cool design, which would look great next to your iOS devices like iPads, etc.  It also comes with a separate headphone output and separate stereo output as well.
These are perfect for laptop DJs, music production, recording with a small band of musicians, or for those who like to carry their devices simply while traveling.
#10. Apogee Quartet – $1300
Like the previous one, this too offers an ultra sleek and cool aesthetic design, except it amps up the features with 4 inputs and 8 outputs. It is a professional audio interface and one of the best usb audio interfaces available in the market if you can afford it.
The front facing design is great to gauge the input channels as well, and the headphone monitoring. This marries really well with all Apple products. It has 6 quickTouch pads for input and output selection and has advanced control.
So these are some of the best audio interfaces out there. Let us know which one amongst the best audio interfaces you personally prefer and why, and if you've tried any one of these, let us know what your experience has been like? We'd love to hear from you!
You might also be interested in reading about